How Anyone Can Get a $25,100 Japan Airlines First Class Ticket to Asia for $2,880 R/T
FCF's handy toolshed makes the process so easy you'll wonder if the person next to you paid as little as you did (they probably didn't).
Most travelers realize that no two seats on the same flight are sold for the same price, be it in dollars or miles. When you're sitting in First Class, there's no telling who paid $25,100, who used their miles, or how many miles they used to snag a mileage award ticket. The cabin staff likely doesn't know either, but you do if you got a steal.
Today we want to discuss how to get up to 89% off some of the world's most expensive First Class seats. Not many people have close to $25,000 for an airline ticket, but many of you do have $2,880 to spare, especially for those special occasion trips.
Up to 89% Off? How Does It Work?
Let's talk about how you can use cash (via purchasing miles) on one airline for redemption on another airline. The technical term is known as a partner award.
Let's break it down.
Japan Airlines fares can change by the day or week, but here are what you typically see for First Class to Tokyo:
Chicago: $24,500
Los Angeles: $21,300
New York: $25,100
San Francisco: $22,400
Now what if I told you you could redeem 160,000 American Airlines miles to get one of these seats — and that you could buy those miles for just $2,880? You'd say "hai!," right? That's "heck yeah" in Japanese.
While American Airlines doesn't offer First Class flights to Tokyo, its partner Japan Airlines does, and makes them available to American AAdvantage miles collectors. In other words, if you have American miles, you can fly First Class on Japan Airlines for just 160,000 round-trip – to Tokyo and many other cities in Asia — from all over the U.S.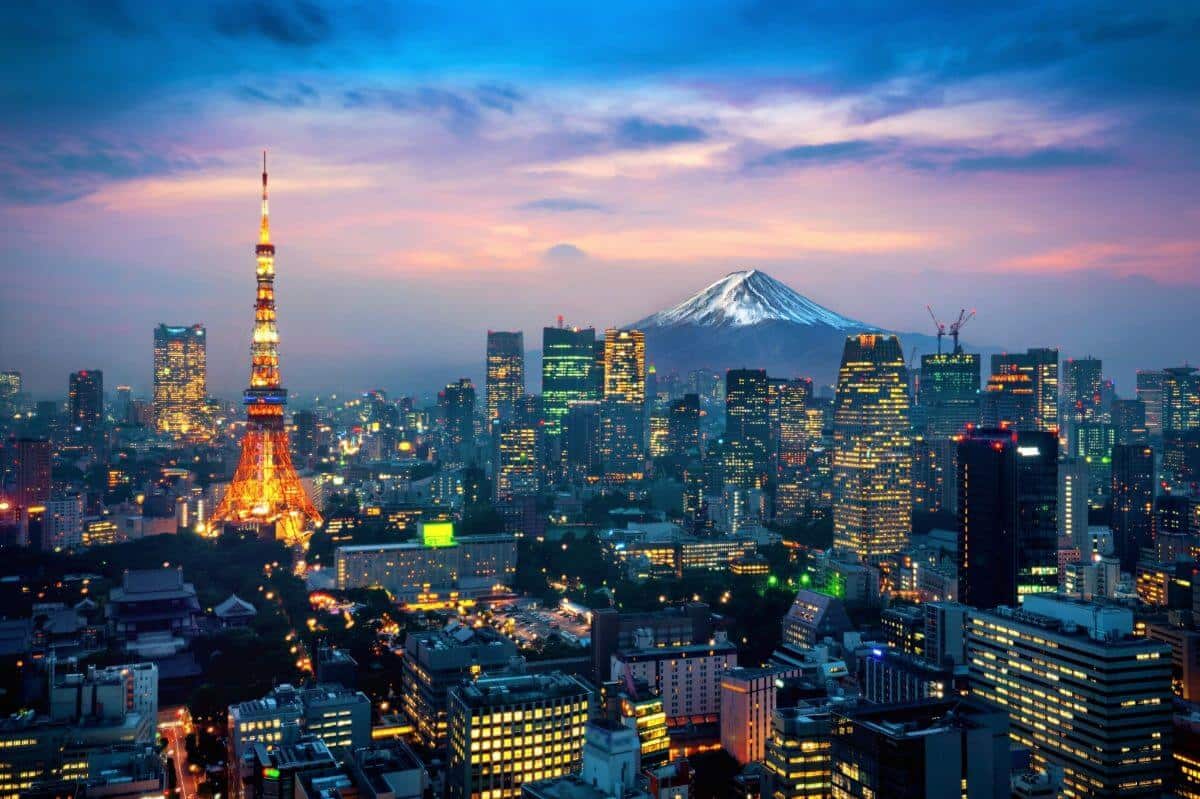 Buy American Miles to Fly Japan Airlines First Class
American usually has an everyday price of 2.8 cents per mile, however, AA frequently offers mileage purchase bonus and discount promotions for as low as 1.8 cents each up to 150,000 per year, plus any bonuses. That amounts to a First Class flight to Tokyo at $1,440 each way. These are massive savings on the normal published fares as the chart below reveals.
Follow our strategy here for the annual limit maximum workaround.
Use FCF's Toolshed To Realize the Savings on First Class Using American Miles, Which Anyone Can Buy
Operating Carrier
To Tokyo From
Buy Miles From
Mileage Cost
Cost to Buy Miles
When on Sale for
1.8 Cents Each
Normal Published Fare
Savings




Japan
Chicago




American




160,000




$2,880
$24,500
$21,620
88%
Los Angeles
$21,300
$18,420
86%
New York
$25,100
$22,220
89%
San Francisco
$22,400
$19,520
87%
*Taxes are negligible at around $50 round-trip.
What About Amex Points?
If you don't have enough points, you can also buy points from Amex and transfer them to its partner Cathay Pacific to redeem for that Japan Airlines First Class ticket. It costs a little more than if you go through American Airlines, but the savings are still spectacular. I'm talking 81% to 84% off the normal fare. See below.

First Class Savings on Japan Airlines Using Amex Points Partner, Which Any Amex Cardholder Can Buy
Operating Carrier
To Tokyo From
Lowest Cost Amex Partner
Amex Partner Cost
Cost To Buy Amex Points
Normal Published Fare
Savings




Japan
Chicago




Cathay Pacific




160,000




$4,000
$24,500
$20,500
84%
Los Angeles
$21,300
$17,300
81%
New York
$25,100
$21,100
84%
San Francisco
$22,400
$18,400
82%
Oh by the Way
For the same price using American and Cathay Pacific miles – and therefore cash – you can fly to destinations such as Bali, Bangkok, Hanoi, Jakarta, Kuala Lumpur, Osaka, Singapore, Taipei, and dozens of other cities in the region based on availability.
When Does this Work?
Of course, airlines don't offer discount mileage award tickets for First Class seats every day that'll save you up to $22,220. However, there are some routes and dates that are easier to book than others. At the moment, Japan is releasing one seat at a time and generally for travel 10 to 11 months out. This changes often. See more below.
This is where FCFs Sweet Redeems Tool and Alerts come into play. You can learn all about how to access a golden key that unlocks tickets like this. We'll show you what months of the year you're likely to score seats for one, two, or four passengers.
This is one of many areas you can reimagine upgrading your travel life.
Japan Airlines First Class with American or Cathay Miles
Tokyo To / From
Outbound
Outbound
4 to 8 Days Per Month
9 to 12 Days Per Month
4 to 8 Days Per Month
9 to 12 Days Per Month
Chicago
Dec.
Dec.
Los Angeles
Dec.
Dec.
New York
Nov.
Nov.
San Francisco
Dec.
Dec.
*November and December 2023. Months in black at least one seat available.
Ready to Book?
Did you know all of this is at your fingertips? Could you imagine saving so much research time and piles of miles on your next trip? Just go to FCF's Sweet Redeems deal page and/or follow our Sweet Redeems availability alerts on email to follow availability opportunities.
Want more? Inside our deal details page, you'll get instructions on how to book these $25,100 tickets for just $2,880 fast, like this: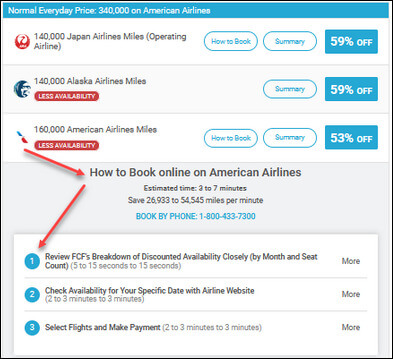 Quick Review
Here's how to use FCF's strategies and tools to get your $25,100 ticket for $2,880.
Step one: Stay on top of FCF's Sweet Redeem alerts to know when clusters of availability are open and be ready to strike.
Step two: Check availability for your specific dates on AA.com or CathayPacific.com. Have your mileage game plan figured out. If I know I can use the American Airlines miles at some point, I always wait until they're at their lowest sale price, typically about 1.8 cents each. Even now there is a sale that can net a price at just 2.4¢ each.
If you're not sure that you can eventually use the miles, you should wait until your acceptable dates are available when you buy the miles. In that case, you'll pay whatever the going rate is for the miles at the time you're ready to book the ticket.
That isn't so bad because if you don't get them at the AA.com sale price of $2,880, or the Amex everyday price of $4,000, you can always get them for the retail price of under $4,480. You're hedging if you buy miles in advance, but you're still saving about $20,620+ either way.
Step three: Simply book it on aa.com and try not to gloat too much on your flight so no one knows what you paid. It'll be our secret.
That's what we call reimagining upgrading your travel life.
See you up front.
Save Up to 90% On Business & First Class Flights With Flash Deal Alerts & The Exclusive Upgrade Academy
Score like never before with Covid's unprecedented
Premium Airfare and Mileage Opportunities.