How Secret (Last-Minute) Cheap Seats Can Vastly Improve Your (Already-Booked) Flight: The Iterative Upgrade Mindset, Part I
How upgraders-til-the-end get the best deals in the universe with my favorite underutilized flight strategy
What do Toyota, Nike, Amazon, and Nestle have in common?
They all embrace the Japanese philosophy of kaizen: the practice of making small, incremental improvements over time in order to achieve significant results.
For example, Toyota encourages all of its employees to continually look for opportunities for improvement, no matter how small.
This got me thinking about flights when I heard about kaizen because I was born a kaizen flyer. For me, it's often an ongoing and iterative process, not a get-it-right-the-first-time process.
I'll leave that strategy to the lottery players.
Instead, my approach is based on the assumption that I'm simply not going to get it right the first time.
So I give myself that breathing room whenever I'm thinking about flights and many other things for that matter. This is another characteristic of what we at FCF call "The Upgrade Mindset": a collection of our best thinking and often counterintuitive ideas that lead to success in the travel world.
I mean, let's be realistic. On what planet are you going to find a great deal that involves your exact route, date, airline, and class of service all at the same time, the first time you go out and search? Certainly not on this beautiful blue-greenish one I'm writing to you from on a sunny Friday.
However, if you apply the kaizen concept, you can significantly raise your odds of winning this travel game — given the peculiarities of how the airline industry works. More on this in a minute.
Putting Kaizen to Work on Your Next Flight Booking
Circling back to Toyota, another aspect of kaizen is emphasizing "just-in-time production": i.e., producing goods only when they are needed to minimize waste and reduce inventory costs.
This parallels with what I want to discuss today regarding travel: cheap last-minute seats.
Thanks to the lockdown (yes, this is the one thing it was good for), many airlines are still allowing you to take an iterative approach with their generous cancellation and change fee policies. Shhh! Don't say it out loud, or they might revert…
As mentioned, I use this kaizen approach all the time. I wrote about one specific example last November and why I bought three First Class tickets for the same trip.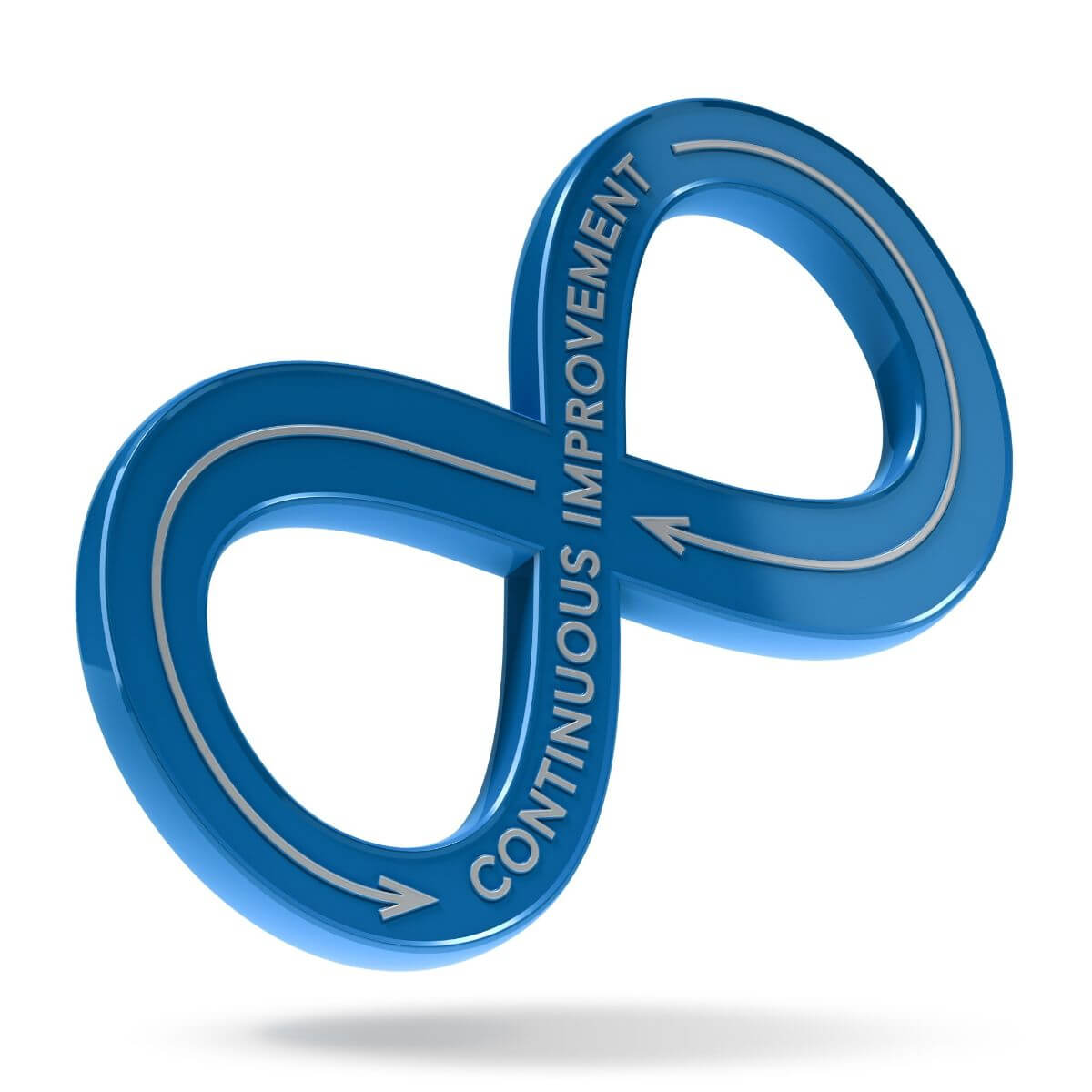 It's a Brinkpersonship Game
Every airline ticket has a use-by date: the day the plane takes off. This is why opportunities often build as you get closer to that date. Like a grocer, airlines don't want their fruit (an empty seat) to spoil, so they get tactical about selling. But they also don't want to advertise a "sale price" because that will just infuriate a lot of existing ticket holders who paid the rack rate.
And the last thing they want is to "train" travelers not to buy early. (That's our job!)
Poor airlines — they're walking a tightrope on a straight razor. Let me get my tiny violin and play an elegy for the airlines. I'm kidding — I love it!
Airlines play the brink game differently. Lufthansa, for example, often opens up their unsold First Class seats to Air Canada (an Amex partner) mileage program members 14 days before a flight takes off. United opens up mileage upgrades on some of their routes within 30 days. Japan Airlines opens up their unsold First Class seats often about six days prior to departure, for example. More on this below.
In other words, if you're a "good little traveler" and do what the airlines tell you, you'd book 11 months in advance and pay the anytime mileage rate to Geneva of 175,000 miles on United for a one-way in Business Class. Or you can put your critical-thinking kaizen hat on and pay the last-minute, we-have-to-dump-seats-now price of just 62,600 miles for the same seat. I know which traveler I'd rather be!
United Pricing Booking Way In Advance
United Pricing Booking Next Week (as of May 10)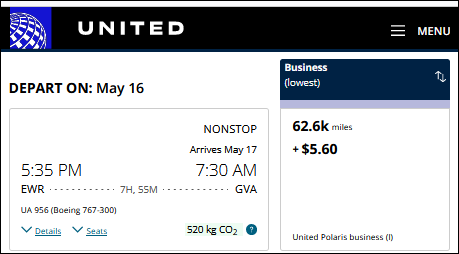 Why Be a Last-Minute Kaizen Upgrader?
You might be thinking, "What the heck, Bennett, that sounds stressful; just let me buy the darn ticket and be done with it."
Well, first of all, potty-mouth, you need to consider that this ticket you (smugly?) purchased:
Cost much more than you wanted to pay (in miles or cash), and/or
Is in a lesser class of service than you want (say Premium Economy or Business, and/or
It may not be on your ideal airline (it has average seats or lacks the amenities you like), and/or
It may not be very convenient (number of stops, routing, airports, connections times, dates, etc.)
Let's look at some real-world, blue-green planet examples.
Kaizen and the Art of Iterative Upgrading
in Five Examples
Iterative Upgrading Example #1
Anne bought a Premium Economy cash ticket,
and then a discounted First Class mileage ticket opened up at the last minute
Anne went to book her long-awaited dream trip to Australia. But she was astonished by the Business Class fares she was seeing – in the $8,000 R/T range (or 223,000 to 450,000 miles each way). Not to mention First Class at $16,800 (or 233,000 to 490,000 miles each way). So, as much as she loves flying up front, she had to settle for a $2,998 fare in Premium Economy because she had nowhere else to turn when booking far in advance (when mileage tickets often cost the most) and wanted to have it locked in.
As the World Turns, So Do the Prices
(When to Love the Dynamic Pricing Trend)
The week of her departure, American opened up a few days of award travel in First Class priced at 75,000 miles for the outbound flight (as shown in the screenshot below). So Anne booked her departure in First Class for just 75,000 miles. She got excited when she saw the return flight was also available in First Class for travel 11 days later, also priced at 75,000 miles.
As the Aussies say: "That's a ripper!"
So let's lay it all out: If you could cancel that $2,998 Premium Economy ticket and use that value for yourself or for others at any time up to a year while booking this trip in First Class for just 150,000 miles round-trip – which anyone can buy for as low as $2,804 in cash when on sale (or ~$3,668 when not on sale) – what would you do?
Me? I'd call that a more-than-free two-class upgrade (getting Premium Economy to First in one swoop!) and snatch it up faster than a koala scoffing down a gum leaf.
See an example of what last-minute pricing might be on AA.com.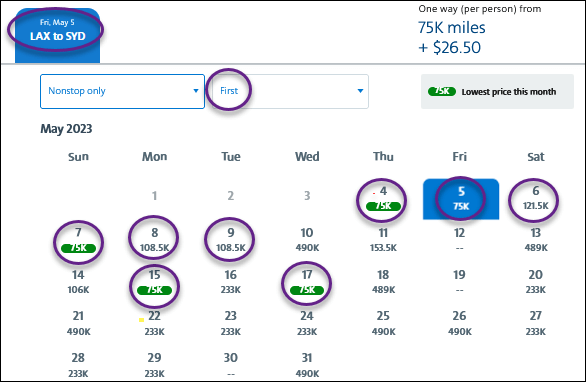 Anne became an expert on her route, with multiple one-minute searches sometimes daily leading up to departure, so she could tell her friends she flew First Class to Sydney and how that totally changed how she felt upon arrival and throughout her trip.
How Can This All Be True?
The Secret: This is the outcome of two things: airlines dumping premium seats at cheaper "dynamic" pricing right before they are about to perish and your willingness to seize the opportunity.
The Super Secret: You can often rely on American to get deals in Business and First Class as the departure date draws closer, between the U.S. and Australia, and a few other routes. Mondays are an especially good day, and ANYONE can buy American miles. This doesn't work on every route but remember the positioning flight strategy too, if you're not starting in LA or traveling to Sydney.
Iterative Upgrading Example #2


Kirk bought a Business Class mileage ticket,
and then a cheaper First Class mileage ticket became available
Kirk spent 120,000 American miles on two one-way Japan Airlines Business Class tickets from New York to Tokyo 11 months ago for himself and his son. That's because First Class wasn't available, which is what he really wanted. Then one week out from departure, more than ten months later–two deeply discounted First Class tickets became available for 80,000 miles each (and just $1,440 if you had to buy the miles when on sale) and only 20,000 miles more than Kirk paid for his Biz Class seats!
So Kirk got kaizen-brazen, booked the First Class tickets, and then canceled the two Business Class tickets.
So for 20,000 miles more per ticket — or just $360 if Kirk didn't have the miles — he got two Japan Airlines First Class tickets that otherwise go for, wait for it, $14,978 each.
The Secret: Japan Airlines, by using American miles, can often be relied on to get deals in Business and First Class as the departure date draws closer between the U.S. and Tokyo. Also, if you're not starting in a JAL hub or flying to a destination in Asia that's not Tokyo, don't forget about the positioning flight strategy.

Iterative Upgrading Example #3


Patty bought a Premium Economy cash ticket
and then a cheap Business Class mileage ticket opened up at the last minute

Patty has a bittersweet relationship with United. Ever since the airline switched to a dynamic pricing model, she never finds anything in Business Class to Europe for less than 310,000 miles round-trip, if she's lucky, and those tickets are typically many, many months in advance. However, there is a secret with United that's similar to the aforementioned American Airlines secret.

As you'd expect, United hates having flights with empty Business Class seats, so what do they do? They typically slash the pricing on a number of routes within 30 days of takeoff. So while Patty hates United six to 10 months before her trip, she loves them seven days out when that quick switch changes the tone of the whole trip.

Because what would've cost her 310,000 miles many months ago can be had for just 120,000 miles last minute. Heck, she can take her boyfriend Dan for free.

I can't keep a secret, otherwise I'd keep these last-minute airline shenanigans to myself. But I like you, so I'm telling you.
Patty's Math
A regular Washington, DC-to-Zurich Business Class award ticket on United booked three or more months out is currently running about 310,000 miles round-trip. The cost to pay cash for that Business Class ticket is about $3,800. So Patty opted to pay $2,129 in cash for a Premium Economy ticket as that's the max her budget allowed for. One week prior to departure, a low-cost Business Class ticket on United became available using 88,000 All Nippon miles r/t (72% less than what United was originally charging). They can be purchased from transfer partner Amex at 2.5 cents each, if she doesn't already have the points, for a total cost of $2,521, including taxes.
So she canceled the $2,129 Premium Economy ticket (she has up to a year to re-use) and bought and transferred the Amex points to All Nippon for a Business Class ticket on United. Nice work, Patty. Keep in mind that you can only book tickets as round-trips through All Nippon and that you can't book within 96 hours (four days) of departure.
If that doesn't work, transfer your Amex points to Air Canada to get the United ticket for 140,000, still less than half of what United was charging many months out, or you can transfer Chase points directly to United.
Iterative Upgrading Example #4


Matt bought a Business Class cash ticket,
and a low-cost First Class mileage ticket opened up at the last minute

Matt (could be me ?) rarely buys round-trip tickets as he's a nomadic traveler who seldom knows where he's going to come home from, which is partly how he's hit 108 different countries. So when he found himself in Europe last year and needed to get home sooner than anticipated for a family emergency, he spent $2,019 on a one-way Business Class. Then three days before departure, a low-cost First Class mileage ticket became available from Milan to New York on Emirates' A380, so he canceled the $2,019 cash ticket, transferred 102,000 points to Emirates, and departed from Milan in First Class on a shower flight for a ticket that otherwise goes for $4,382. Matt's livin' in Kaizen County.
Iterative Upgrading Example #5


Joe bought a Premium Economy mileage ticket,
and then a discounted Business Class mileage ticket opened up at the last minute

Joe wanted to lock in a Business Class ticket to Tahiti seven months out, but the cost was 340,000 miles round-trip. So he settled for Premium Economy and spent 120,000 United miles.

Then a couple of days prior to departure, a Business Class ticket opened up for 144,800 miles round-trip, so he canceled the 120,000-mile Premium Economy ticket and got a new ticket in Business Class. Boom!

This cost him just 24,800 more miles for a ticket that otherwise goes for $2,800 in Premium Economy and $5,347 in Business Class. That's the power of kaizen – iterating the heck out of that trip and saving a stack of cash with one swift samurai swing.

United's One-way Pricing Booking Way In Advance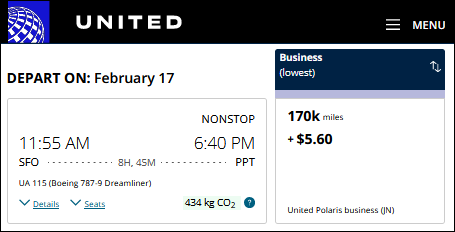 United Each-way Pricing Booking next week (as of May 10)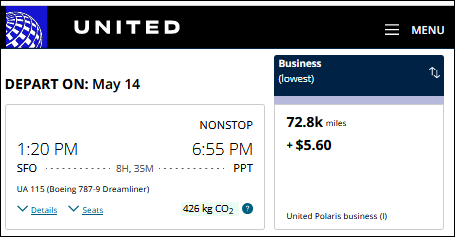 Cancel Fee? Equation
Nowadays, cash tickets (aka as published fares) can typically be canceled, and you can apply the full value of those fares to a future ticket for little or no cost on most airlines up to a year. To confirm, ask an airline reservations, or you can find a link to "fare rules" online on the "manage your reservation" web page if you haven't already read the rules when you purchased the ticket.
Mileage tickets can be canceled, changed, or redeposited for free or at a low fee nowadays. Here are a few examples:
American: No changes allowed. Cancel and redeposit of miles are free.
Delta: Changes, cancellations, and redeposits are free.
United: Changes, cancellations, and redeposits are free.
British Airways: Changes to date, time, and cabin $55; cancel and redeposit $55; additional service center fee for date or time changes, cancellation, and Avios redeposit $25. No charge for Gold Members.
Emirates: Changes to travel date: Saver award $25; Flex and Flex Plus free. Cancel and redeposit: Saver award $75; Flex and Flex Plus free.
Lufthansa: Changes allowed to date and time, but not the route for $50 or 10,000 miles. Cancel or rebooking: in both cases a fee of 50€ per ticket; this amount may vary or there may be no fee with some awards.
Singapore: Changes to travel date: Saver award $25 / Advantage award free; change of route, cabin class or award type on Singapore Airlines $25; change of date, route, flight or carrier on partner airlines $50; redeposit of miles for award tickets / upgrades Saver award $75 / Advantage $50.
In other words, with most airlines (be sure to check with yours), it's so cheap and easy to change and improve your ticket, it's not worth thinking twice about.
More Upgrade Tools
Link-apalooza: enjoy the great Upgrade Mindset kaizen thinking with each click…
For pure blazin' kaizen brilliance, you have to read why I bought three First Class tickets for one trip. Hi ho, hi ho, it's off to upgradeland we go…
Anne, Kirk, Patty, Matt, and Joe…all of them can score a $25,100 First Class trip on Japan Airlines for $2,880. And you too. Read this masterclass of a play.
When "Dirty Harry" Callahan said, "Well are ya, punk?" he was of course asking whether the other gentleman was "upgrade minded." What about you? It's all here.
When fares are rollercoastering along like a hundred Coney Islands, you need a simple two-step FCF plan. And it's right here, behind the cotton candy stand.
Quarterbacks don't score passing touchdowns without their receivers getting into the right positions first. It's often the same for you in travel through what we call "positioning flights."
Here's how to be at peace with your ticket booking decision — FCF's 3 Cs of travel, plus a side of meatloaf.
We're all prone to cognitive biases, and they can affect our win-loss ratio when traveling. Learn about the psychology here, including my favorite, the Dunning-Kruger effect.
How I scored the mythical Emirates First Class "shower flight" (for the sixth time). And it is NOT overrated. Let me show you how I did it using an old-fashioned travel trick few know about.
Cathay Olé! Check out why Cathay Pacific makes sense for First Class with miles and Business Class using miles or cash. But, beware, one stray click of the mouse can land you in the cat house, paying double if you're not careful.
Save Up to 90% On Business & First Class Flights With Flash Deal Alerts & The Exclusive Upgrade Academy
Score like never before with Covid's unprecedented
Premium Airfare and Mileage Opportunities.