Choose your 14-day / $0 trial membership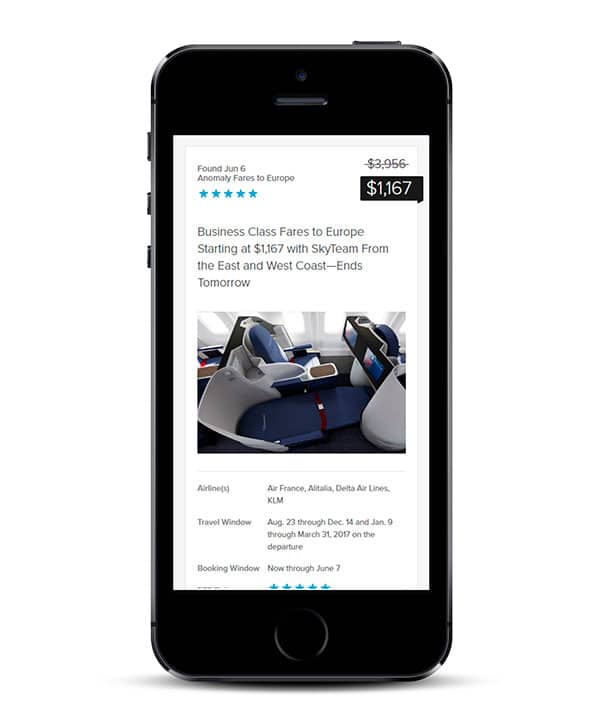 FCF Daily Alerts
As an FCF member, you will be alerted almost daily about "the truffles our hounds have just found." Every Daily Alert has a "How you or your travel agency can find and book these short-lived opportunities" link. Topics covered:
Upgrade opportunities paying with money
No longer will you miss out on $1,100 to $1,800 Business Class published, NON-mistake fares to Europe—round-trip—$2,100 to Africa and Asia, $1,600 to South American and more—on major U.S. and international airlines.
Upgrade opportunities paying with miles
No longer will you miss out on opportunities when redeeming miles is easy for Business and First Class, a.k.a. 'Sweet Redeems'—an FCF specialty. American, Delta, and United, sure, but also get notifications when top-tier carriers like Cathay Pacific, Emirates, Etihad, Singapore, and many others release mileage award seats that come and go quickly.
With this actionable intelligence, you fly deluxe for fewer bucks.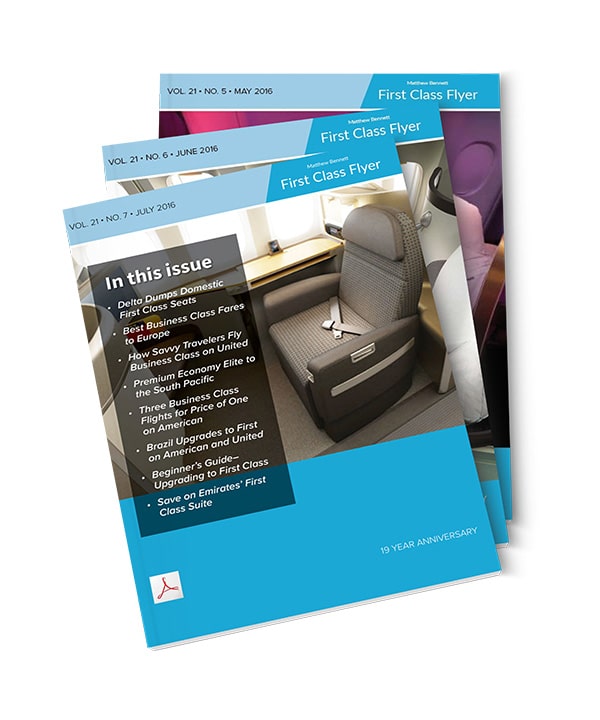 FCF Monthly Advisor
Hate flying coach? Hate paying premium? Join the club.
Not the big one, made up of disgruntled flyers who have to choose between all that squandering or simply being squashed.
The exclusive one, where members know that just as extravagance gets you up front, so too does diligence.
Each First Class Flyer Monthly Advisor features timely upgrade opportunities—upportunities—you will find nowhere else in many cases.

FCF is invariably creative and often ingenious
Prof. Thomas Y. Levin
Princeton University

Bennett is an authority on premium travel ticketing strategies

I trust Bennett
Bud Collins
International Tennis Hall of Fame
For people who fly up front

I can't say enough about Matthew
Paul Haggis
Two-Time Academy Award Winner, Best Pictures

Upgrade secrets and strategies… fly in business class for the price of coach

A crucial resource… packed with insider tips

Matthew is outstanding at what he does
Ari Fleischer
Former White House
Press Secretary;
Fleischer Sports CEO

An exclusive website… finds reduced fares and free upgrades
Four Seasons Resorts Magazine

Bennett is top-of-mind when thinking about upgrading
Tod Cohen
General Counsel and Vice President at StubHub

The best resource I know for 'tricks' is Matthew Bennett's First Class Flyer

I jumped on Bennett's Biz Class alert to Europe starting at $1,450 r/t
Lawrence Pass, MD
Heart Surgeon Nashville, TN

The insider site

Bennett's FCF is not only the most informative newsletter of its kind, but it's a genuinely fun and interesting read
Prof. Michael Beckerman
New York University

Mr. Upgrade shares his secrets for flying first class at economy fares

Loaded with tips on flying in comfort without paying the exorbitant fares

Specializes in finding cheaper luxury flights for executives

First Class Flyer is a must-read