New Biz Class Fares Found from Atlanta, Detroit, and Philadelphia to Europe, From $2,226 R/T
Explore Routes
{{ originConnection }}

via {{ origin }}
{{ origin }}
{{ destinationConnection }}

via {{ destination }}
{{ destination }}
Confirm that the flights/dates you want are available for the upgrade using miles by requesting upgrade award space on the "All search options" page.
Click on the "Upgrade type" search in the middle of the page.
Select the "Buy Economy and upgrade" option to search for upgrade space to Business Class from economy in the "Fare preferences" section, after you click on "Upgrade type." See below:

When your search results comes back, it will not only show fares and flight schedules, it will also show what flights offer an upgrade, and what the cost is.
Click on "Details" to find out if the upgrade space is available.
Select your flights, making sure that you are logged into your mileage account, and that you have the miles required in your account; then pay for your ticket.

This can all be done online. If you want to book over the phone, call 800-421-4655.
After you get a sense of "where good availability is" (perhaps using our survey), call American and confirm that the flights/dates you want are available for the upgrade using miles, and book it.
If the upgrade on the flights/dates you want are not available, have the agent check other dates/flights.
This cannot be done online. Call 1-800-433-7300.
Don't have any or enough United miles? No problem. Just buy United miles when they go on sale, or transfer points through
Marriott's Travel Packages
(for more information go
here
), or transfer points from Chase to United. Don't have any or enough American miles? No problem. Just buy American miles when they go on sale, or transfer Starwood/Marriott points, and you too can save big.
Sample Savings for Business Class: Philadelphia to Madrid goes for $2,226 round-trip (inclusive). Compared to other high fare routes, such as Rome $3,578 (inclusive), a savings of $1,352 (38%).
Remember that Flash Airfares—which can change any time and probably will, generally within a day or two, more or less—can be extended on 13 airline websites (plus as many as 15 partner airlines). See FCF's July report for details on  How to Hold Amazing Business and First Class Flash Fares Before They Disappear into a Black Hole.
Ticketing Deadline: Varies
Advance Purchase: Varies
Departure/Return Travel Days: Varies
Travel Window: Varies
Minimum Stay: Varies
Maximum Stay: Varies
For Travel Agents: If your travel agent or airline reservationist is having difficulty finding these fares, provide them the "Fare Basis Code(s)", which they can use to pull up a "Fare List" in their computer, which will give them the fare's "rules" to help navigate to the deal: Air France, Delta, Z; American, British Airways, I; Air Canada, P.
Screenshot of sample fare on aircanada.com: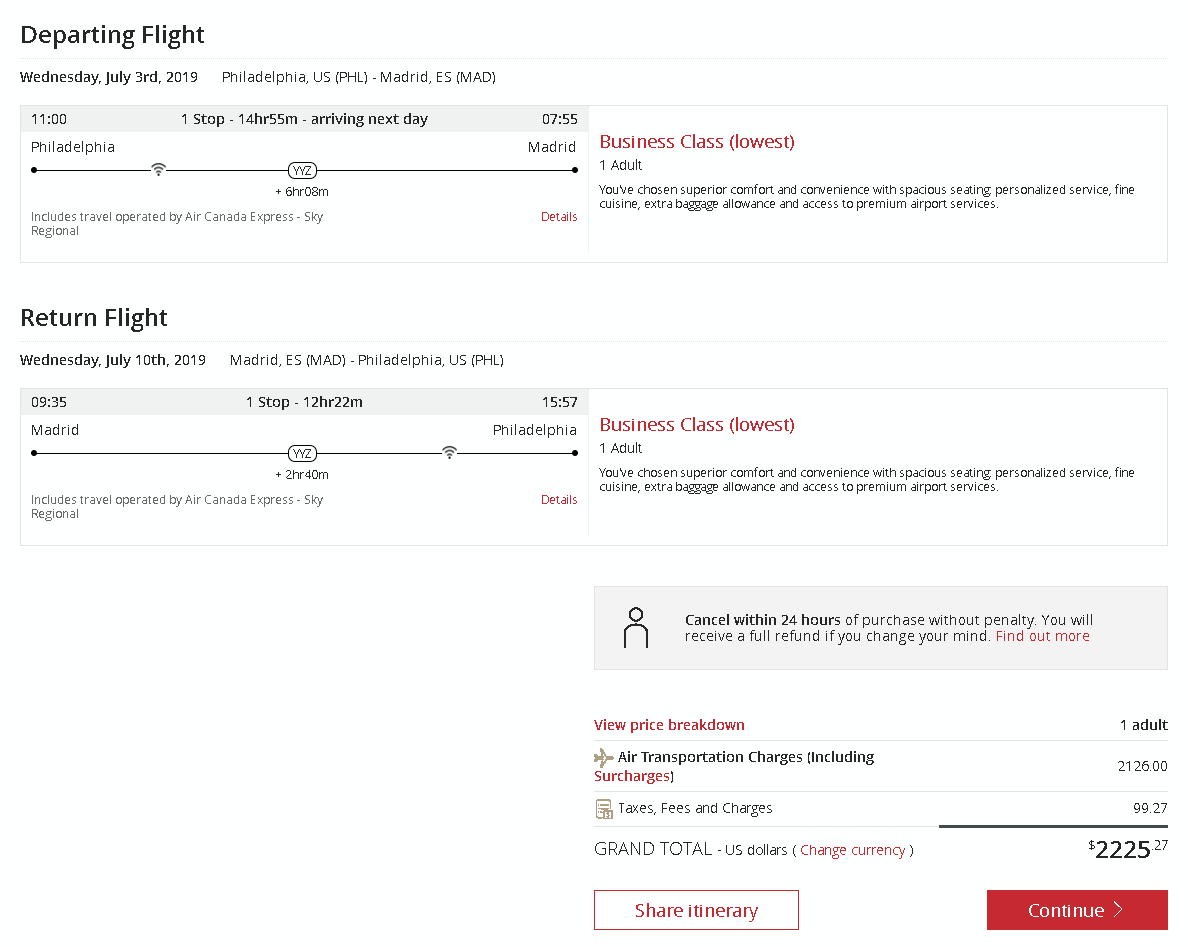 Screenshot of Availability Calendar on Google.com/flights: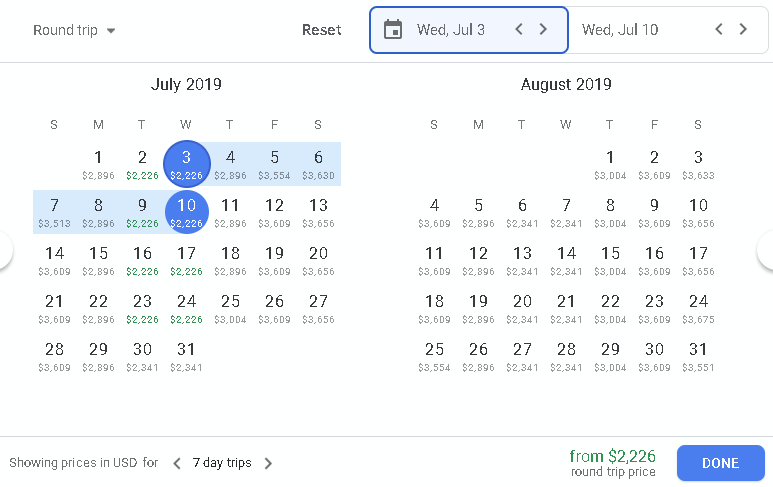 Start your 7-day free trial and travel first class for less.
Log In to continue reading.