Nine Reasons Why FCF's Discount Miles Detector is the Best Thing Since Pizza
We love pizza, and we love our Discount Miles Detector, the World's Best Way (seriously!) to instantly see how you can find dirt-cheap Business and First Class mileage seats—frequently for the cost of coach or less—and when they are ripe for easy picking—in FCF's Newsroom.
It's live and ready to use. So go ahead—play with the origin and destination opportunities. Is it a bucket list city? A romantic favorite? The Discount Miles Detector appears at the top of almost every mileage deal we publish. Give it a try.
Bang! Just like that you get a survey of the availability using your miles and points for long-haul flight/s—a little or a lot, and when. And lots more.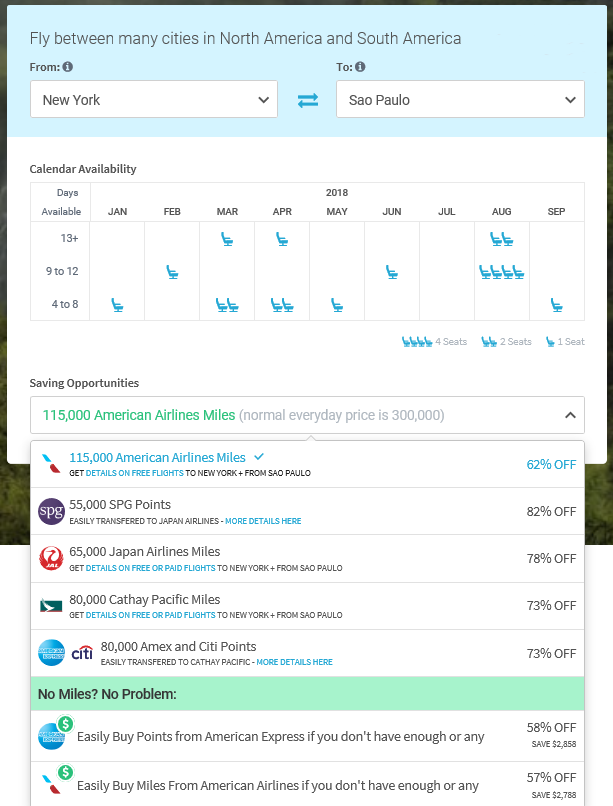 Just a glance will tell you it's simple to use, and it's packed with useful information. How much do we love our Discount Miles Detector? Let us count the ways. All nine.
Save Time
It's super user-friendly. Mile-hoarders can get a near-instant sense of where the lucrative mileage fish are swimming. Our Discount Miles Detector will save you countless hours. You'll feel like a trout-trapping champion with your big discount-upgrade catch.
Save Miles / Points
The big discount-upgrade opportunities are laid out simply for you, like this one (below) showing how an SPG points player will fare compared to an American Airlines credit-card player. In this example, the former saves 82%.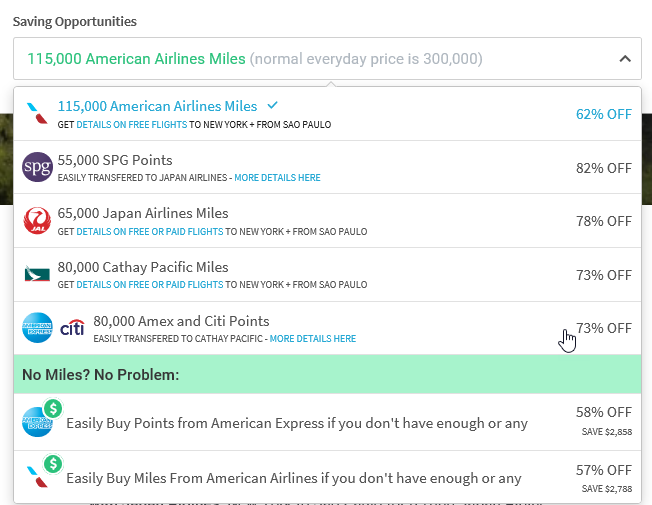 See original alert here.
Everyone has the challenge of thinking through which mileage currency to use. In the blink of an eye, see which of your miles or hotel / credit card transferable points works best for you.
The Discount Miles Detector works with American Express Membership Rewards, Chase Ultimate Rewards, Starwood Starpoints, and Citi ThankYou Points.
Often, just by using Discount Miles Detector, you can net Business Class for a little more, a little less, or the same as economy (aka free/low-cost upgrades), or First for less-than-Business Class.
FCF helps you easily decide between using your:
Miles, or
Points, or
Money (via unusually strong mileage award availability).
Save Money
If you don't have miles or points, no problem. Our Discount Miles Detector will show you how to buy the points or miles if you don't have enough or any at all. This strategy has been a favorite of FCF readers since we invented it over a decade ago. See how it works here:

One of the best ways to save many thousands on premium air travel.
Easy-to-Use Calendar
Otherwise hard-to-find flash mileage deals are visible at a glance. You get a good sense of general availability by month—for 1-, 2-, and 4-seat availability—so you immediately see if it lines up with your itinerary, and the number of people you are traveling with. Or, if the deal is so good (they often are) you'll tweak your travel dates to make the ridiculously amazing opportunity work for you.

Works with Major and Premium Carriers
Including All Nippon, American, British Airways, Cathay Pacific, Delta, Emirates, Etihad, Japan Air, Lufthansa, Singapore, and United, to name a few.
Understand How Free Connections Work
From Your Airport and/or To Your Desired Destination: See which airline programs offer possible connections for free from your home airport or from abroad. Links to our special reports show more details about connections and buying or transferring miles.
Save Even More TIME AND Money
by Stacking Related Opportunities and FCF Strategies
We link to other relevant First Class Flyer special reports where you can "stack the strategies"—including:
Top Bucket List Routes
Everyone has the problem of finding flights with mileage availability to places like Africa and the South Pacific. That's what FCF's Truffle Hounds are for, to serve up the opportunities that enable you to secure hard-to-get destinations at deeply discounted prices, on major airlines.
Filter DISCOUNT MILES Detectors Fast By Region
Start at FCF's Daily Deals page and you can zero in faster by filtering by region:

PS: Let us know about your success story (there's a reward for that), and how you think our Discount Miles Detector could be better (a reward for that, too).
Save Up to 90% On Business & First Class Flights With Flash Deal Alerts & The Exclusive Upgrade Academy
Score like never before with Covid's unprecedented
Premium Airfare and Mileage Opportunities.