Revisited for 2023: Horses for Courses (and Cabins). How Mixed-Class Fares Can Make for a Much Better Value
A fresh post-lockdown look at cabinus interruptus — a worthwhile ploy to get the most flight comfort bang for your buck, with upgrades starting at $4 per flight hour
One of the (many) default behaviors that travelers subconsciously engage in is departing and returning in the same class of service. I'd like to let you in on a little-used secret: You can mix up the cabins depending on the circumstances of your trip to upgrade or downgrade your class of service. Either way, it's about getting the most bang for your buck, and this is the way to do it.
So what are the circumstances
where this might apply?
The decision should be based on how you're going to use your seat each way. If it's a night flight (and most flights from the U.S. to Europe depart at night), you'll want a comfy sleep so you'll be fresh when you arrive. Hello, Business or First Class. If it's a day flight and you want to do some work, read a book, or catch up on Season 1 of "Flight Attendant," then Premium Economy might suffice — if saving your budget for another part of the trip, say upgrading to a suite at your resort, is important.
Why pay for a lie-flat sleeper seat on a day flight
if you don't plan on sleeping in it?
But here's where it really makes a difference. By not taking the default option of returning in Business Class, you can save $915 on a New York-Frankfurt trip, or save $1,134 on a Chicago-Paris trip, as you're about to discover. Vive la différence!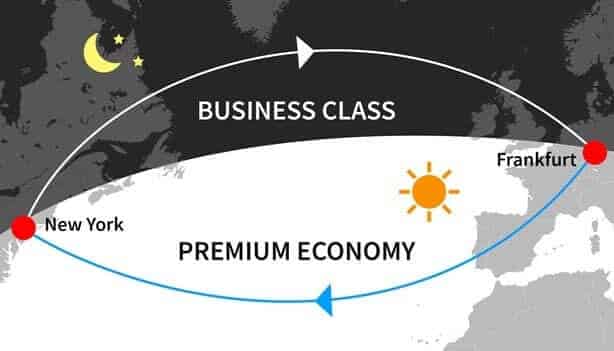 Smart Comeback Example #1
SAVE $915 FROM FRANKFURT FOR A SEAT YOU MIGHT NOT EVEN SLEEP IN
A New York-Frankfurt round-trip ticket typically costs $3,429 in Business Class on Delta. But if you fly in Business Class to Frankfurt (as the flight leaves at 7:40 p.m.), and return in Premium Economy (flight leaves at 10:45 a.m. so seat recline is not as critical), the total cost is $2,514, a savings of $915. You can put that towards an out-of-this-world dining or tour experience and not think twice about it.
Delta's New York-Frankfurt
Business Class ROUND-TRIP $3,429

Delta's New York-Frankfurt
Business / Premium Economy Class $2,514

SAVE $1,134 FROM PARIS BY FLYING IN PREMIUM ECONOMY INSTEAD OF BUSINESS
A Chicago-Paris round-trip, nonstop ticket costs $3,488 in Business Class on American. But if you fly in Business Class to Paris and return in Premium Economy, the total cost is $2,354, a savings of $1,134.
Smart Comeback Example #2
Upgrade Your Premium Economy R/T to Business O/W for Just $4 PER Hour
Let's look at another way you can use a mixed cabin fare to your advantage. You can upgrade from a standard Premium Economy flight to Europe (with a lousy night's sleep) to a mixed-cabin strategy (Business Class to Europe on the sleep leg, Premium Economy on the daylight return flight) for a mere $4 per flight hour. I mean, sleep is precious, right? And surely that preciousness is worth more than $4 an hour. Sounds like a done deal to me.
As the screenshots below show, a Premium Economy return flight between New York and Amsterdam typically costs about $2,656. However, if you depart in Business Class at 7:15 a.m., much more ready to walk off the plane and straight into a day on the town (not a recovery nap in the hotel). You then return to New York in Premium Economy looking at all the photos on your laptop, for just $2,721, or $65 more. Now that's what I call great value for the money.
Remember, as with all FCF examples, they are for concept purposes only. Fares change too fast for many of these to be live for long.
United's New York to Amsterdam
Premium Economy $2,656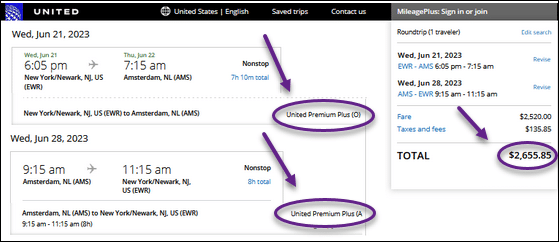 United's New York to Amsterdam
Business Class / Premium Economy $2,721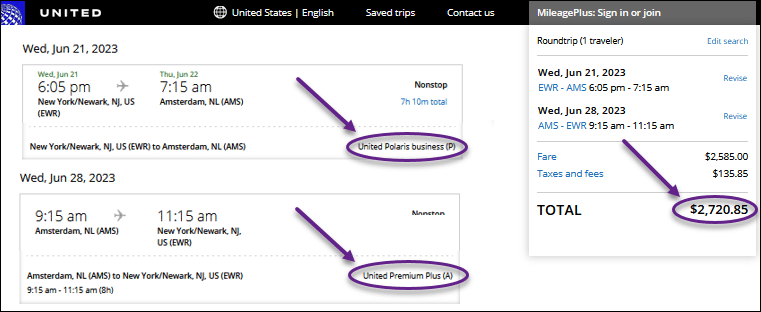 Smart Comeback #3
Time to Splurge a Bit, for $40 PER Hour
Okay, now let's dial up the comfort notch using this mixed-cabin strategy. Imagine it's a special occasion, maybe an anniversary. Or maybe your team just won the World Series. I'd pitch to upgrade that Business Class night flight between New York and London with a First Class flight on the way there, and Business on the way back. According to fares at time of publication, that well-deserved comfort upgrade will cost you an extra $40 per flight hour if you're flying American Airlines this spring. Divide and conquer; whether you're leaving or heading home, a change-up just might win you the game.
American's New York to London
Business Class ROUND-TRIP $3,271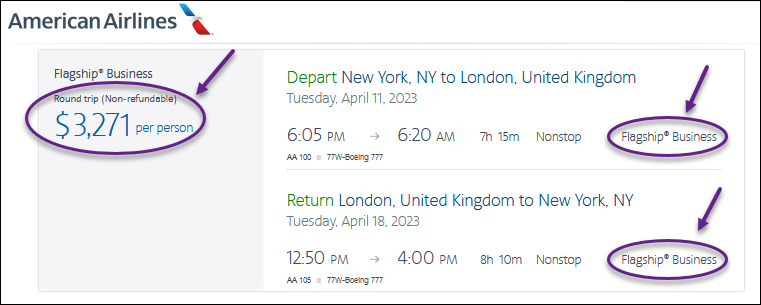 American's New York to London
First Class / Business Class $3,871

How to Search and Book With Kayak
While you can book these flights on the airlines' websites, the benefit of Kayak.com is that it lets you search for different classes on one round-trip ticket, by using the multi-city search option. This way, you can select different classes of service as needed.
To leverage Kayak's search power, select "Multi-city" from the drop-down instead of "round-trip."
Enter your departure and destination, and departure and return dates, and class of service for each flight segment, and hit search. Easy.

Use FCF's Horses for Courses strategy to properly upgrade the moments in life that matter most.
Save Up to 90% On Business & First Class Flights With Flash Deal Alerts & The Exclusive Upgrade Academy
Score like never before with Covid's unprecedented
Premium Airfare and Mileage Opportunities.