The best resource I know for 'tricks' is Matthew Bennett's First Class Flyer

The insider site

Mr. Upgrade shares his secrets for flying first class at economy fares

Loaded with tips on flying in comfort without paying the exorbitant fares

Specializes in finding cheaper luxury flights for executives

First Class Flyer is a must-read

Bennett is an authority on premium travel ticketing strategies
For people who fly up front

Upgrade secrets and strategies… fly in business class for the price of coach

A crucial resource… packed with insider tips

An exclusive website… finds reduced fares and free upgrades
Four Seasons Resorts Magazine
For the last 21 years, Matthew Bennett's First Class Flyer team has been devoted to one thing, and one thing only:
Digging up data from the four rich Flight Upgrade seams of the industry we love:
- International Premium Fare Trends
- Domestic Premium Fare Trends
- Elite Status Strategy Trends
- Miles & Points Opportunity Trends
... for the purpose of making the otherwise enriching and rejuvenating opportunities travel affords, "endurable" to get there, arrive.
The focus is always First Class, Business Class and occasionally Premium Economy and we dig for the data that allows FCF members to fly up front, more comfortably and for less, simply put.
"Won't fly coach,
won't pay for premium"
That's the motto of many of our most traveled members, and our data makes that audacious assertion a reality—not the dream it seems. (And it does so legitimately, beating the system without cheating the system is a reward in itself.)
The discovered data we convert to upgrade strategies and usable intelligence in Monthly Upgrade Reports and Daily Upgrade Alerts, as the market and substantial opportunities warrant.
The trends at the links above are intended to stimulate looking beyond what you've been trained to believe, which might result in flying how our 1% do, who otherwise "Won't fly coach, won't pay premium".
If you're not a member now, consider exploring all the FCF options to fly deluxe for a few (or no) more bucks.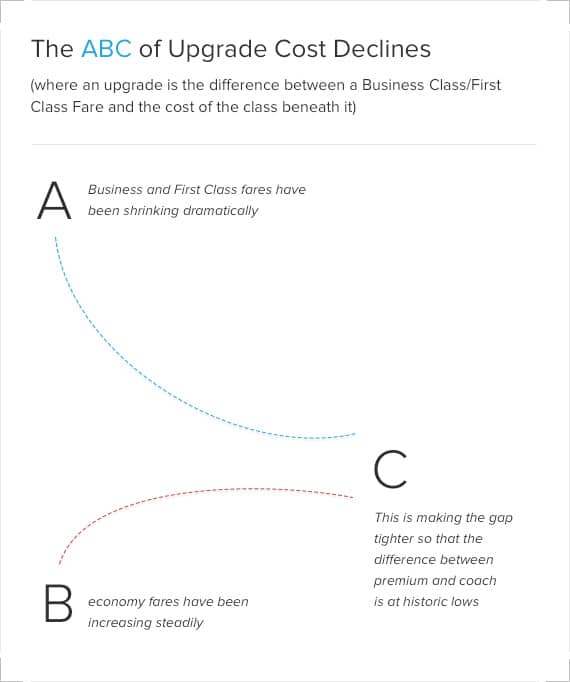 Latest Exclusive FCF Alerts...

Bennett is top-of-mind when thinking about upgrading
Tod Cohen
General Counsel and Vice President at StubHub
I jumped on Bennett's Biz Class alert to Europe starting at $1,450 r/t
Lawrence Pass, MD
HEART SURGEON NASHVILLE, TN

Bennett's FCF is not only the most informative newsletter of its kind, but it's a genuinely fun and interesting read
Prof. Michael Beckerman
NEW YORK UNIVERSITY

FCF is invariably creative and often ingenious
Prof. Thomas Y. Levin
PRINCETON UNIVERSITY

I trust Bennett
Bud Collins
INTERNATIONAL TENNIS HALL OF FAME

I can't say enough about Matthew
Paul Haggis
TWO-TIME ACADEMY AWARD WINNER, BEST PICTURES

Matthew is outstanding at what he does
Ari Fleischer
FORMER WHITE HOUSE PRESS SECRETARY; FLEISCHER SPORTS CEO

The best resource I know for 'tricks' is Matthew Bennett's First Class Flyer

The insider site

Mr. Upgrade shares his secrets for flying first class at economy fares

Loaded with tips on flying in comfort without paying the exorbitant fares

Specializes in finding cheaper luxury flights for executives

First Class Flyer is a must-read

Bennett is an authority on premium travel ticketing strategies
For people who fly up front

Upgrade secrets and strategies… fly in business class for the price of coach

A crucial resource… packed with insider tips

An exclusive website… finds reduced fares and free upgrades
Four Seasons Resorts Magazine

Bennett is top-of-mind when thinking about upgrading
Tod Cohen
General Counsel and Vice President at StubHub

The best resource I know for 'tricks' is Matthew Bennett's First Class Flyer

I jumped on Bennett's Biz Class alert to Europe starting at $1,450 r/t
Lawrence Pass, MD
Heart Surgeon Nashville, TN

Bennett's FCF is not only the most informative newsletter of its kind, but it's a genuinely fun and interesting read
Prof. Michael Beckerman
New York University

The insider site

Mr. Upgrade shares his secrets for flying first class at economy fares

Loaded with tips on flying in comfort without paying the exorbitant fares

Specializes in finding cheaper luxury flights for executives

First Class Flyer is a must-read

FCF is invariably creative and often ingenious
Prof. Thomas Y. Levin
Princeton University

Bennett is an authority on premium travel ticketing strategies

I trust Bennett
Bud Collins
International Tennis Hall of Fame
For people who fly up front

I can't say enough about Matthew
Paul Haggis
Two-Time Academy Award Winner, Best Pictures

Upgrade secrets and strategies … fly in business class for the price of coach

A crucial resource … packed with insider tips

Matthew is outstanding at what he does
Ari Fleischer
Former White House
Press Secretary;
Fleischer Sports CEO

An exclusive website … finds reduced fares and free upgrades
Four Seasons Resorts Magazine